Reputation Management
Researching a product, service or business online has become a natural part of the buying process. Monitoring your reputation and reacting promptly will help you avoid crises and full-on disasters, and prevent negative news about your business from spreading.
Monitoring your online reputation will give you valuable customer insights: what people love about your product, what they wish they could change, and what they feel is missing.
A proactive approach to the matter consists of monitoring your public reputation on a regular basis, and not just when you come to know about a specific event to deal with. How do you do this? The answer is simple, use SeoSamba's built-in Reputation Management toolset.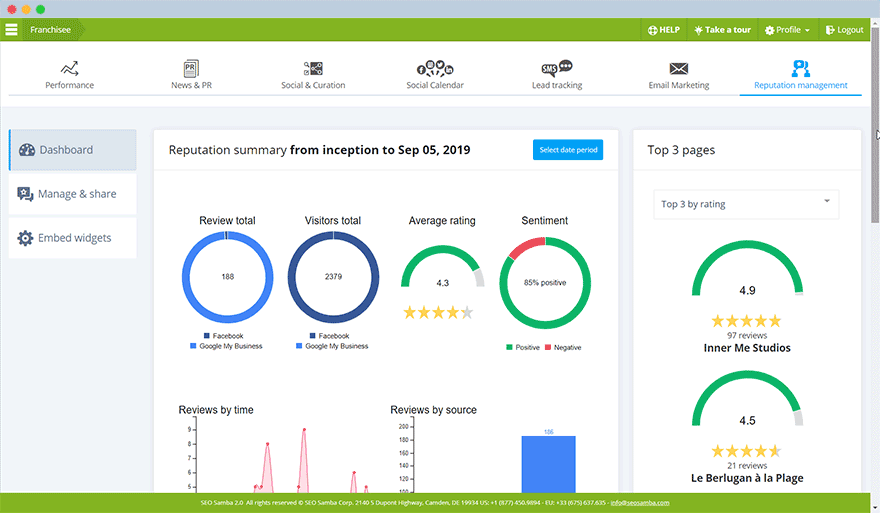 Now you can manage Google and Facebook reviews for any number of locations from your SeoSamba Marketing OS dashboard.
Respond right there and then, or flag your reviews as a reminder or for another team member to respond, and even share your best reviews in 1 click through the built-in social calendar to your Facebook, Google My Business, LinkedIn, and Twitter accounts, without ever leaving your dashboard.
Manage and Share Reviews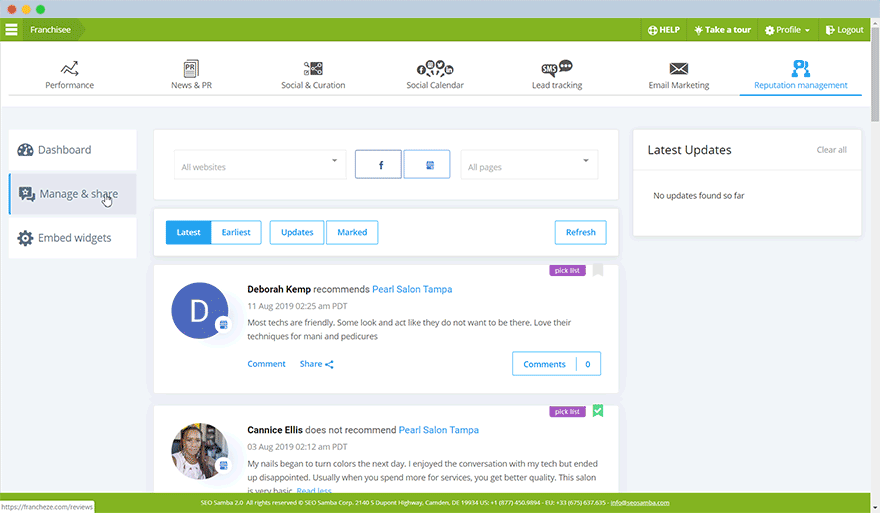 React quickly, and remain factual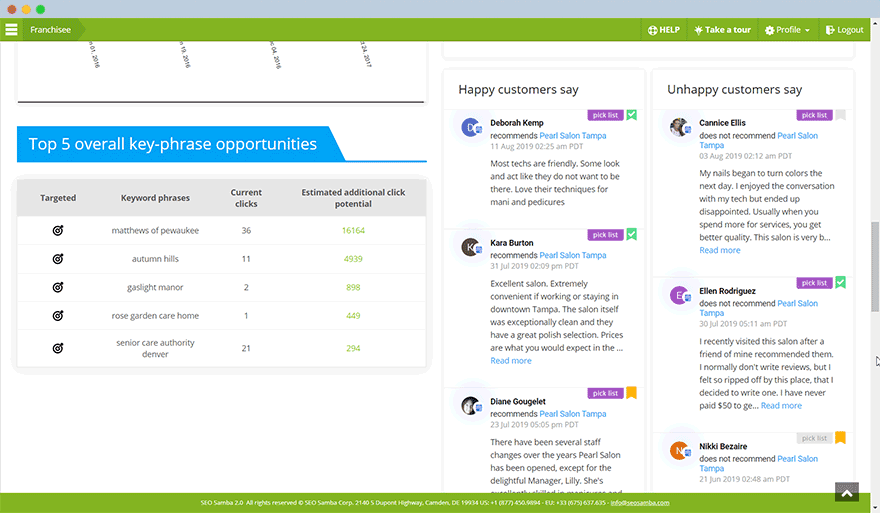 Reply to posts and comments faster by assigning to appropriate team members. Then easily approve responses to ensure your messaging is on-brand.
In the case of a customer complaint, for example, a prompt and simple "We are aware of the problem. We are working on it and will get back to you as soon as possible." is better than a late reply with more information.
Share your best reviews
Click the "Share" button under the review you would like to post to your social accounts. Social Calendar's new post screen appears, add hashtags and post it to your social accounts right there, or even better schedule it to become a recurring post part of your ongoing social marketing presence.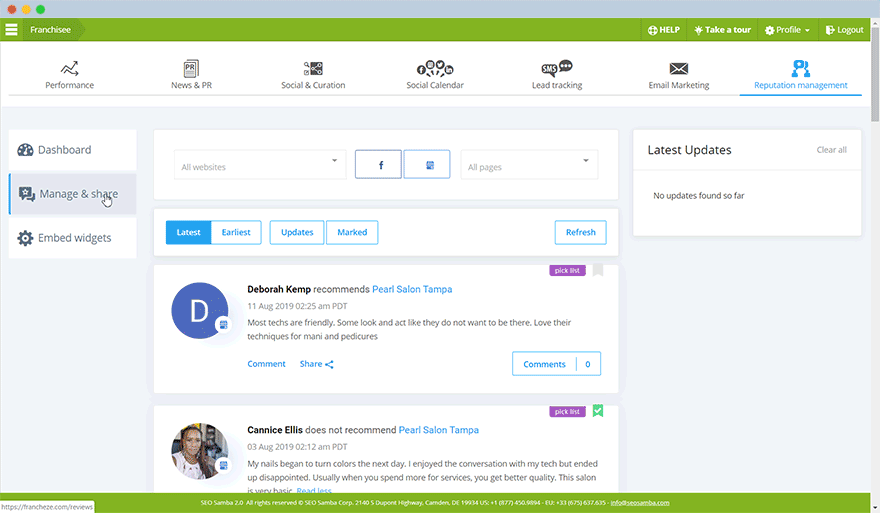 Request your clients to leave reviews
Create a review request link from the Embed widgets menu. Select your website/asset from the list and a social profile page where you would like your clients to leave a review. You can create as many links as you wish.
Remember to personalize your Review Landing Page by adding your photo and your signature: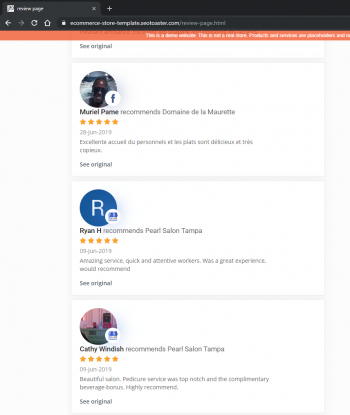 Hit both - the switcher and Save Button to apply the changes for the layout:
In order to request reviews safely and efficiently, do not send a direct link to your social pages, and instead, always use our link widget. Why?
Because SeoSamba will let you mitigate risks for negative reviews by asking first the client intent:

Then intercede in your favor, featuring a personalized message, that you can customize from your interface (more of this below), and alert you should they wish to leave a negative review.
Use this link on any website, email or SMS.
If you are using SeoSamba's front-end SeoToaster Ultimate CRM, things get even better as you can embed that link with a Net Promoter Score sequence, asking reviews only from clients who have declared themselves brand promoters.
Generate and embed widgets on your website or any web properties
This tool lets you display on your website or any other web properties selected reviews. By default, our system filters to display only 4 and 5 stars reviews. But you can also hand-select reviews, and display them along 4 and 5 stars reviews that have been shortlisted automatically, or just create a review list that contains only your hand-selected reviews. This comes handy and add credibility when you share initially somewhere unhappy clients complain as long as you have handled them satisfactorily.
Create a name for your review list, select website/asset, then social pages from which reviews will be collected along with the number of reviews you want to display to visitors.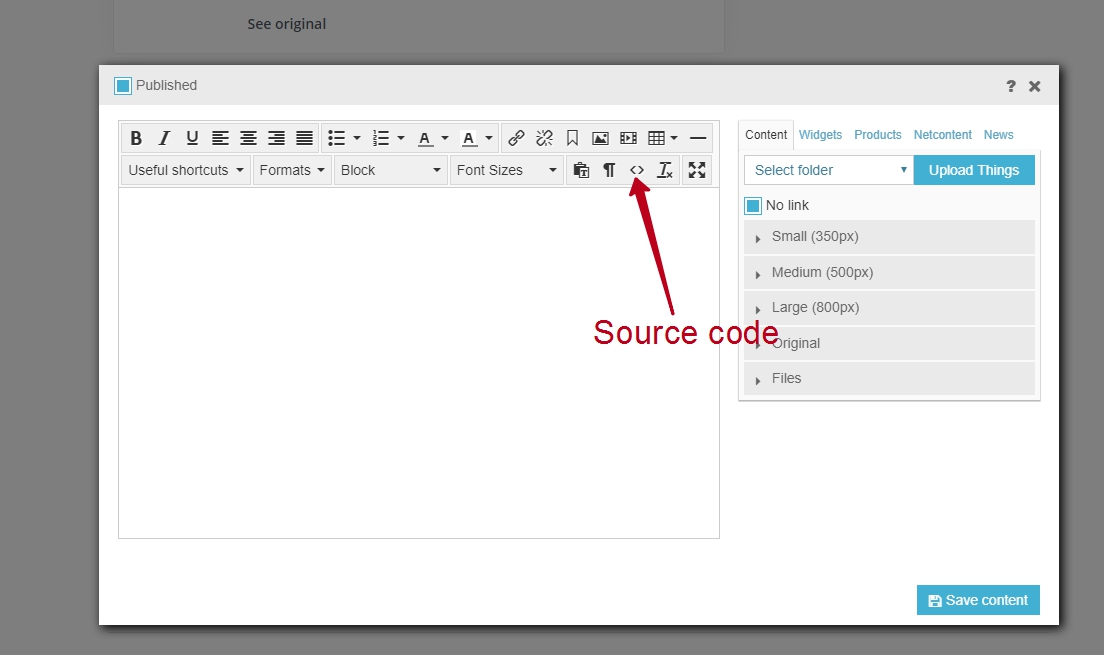 Copy the widget code and insert it into the source code of one of the containers on the review page of your website, or give it to another web properties webmaster to embed on their site.