Your SeoSamba MOS account has 2 Performance tabs: My activities and Results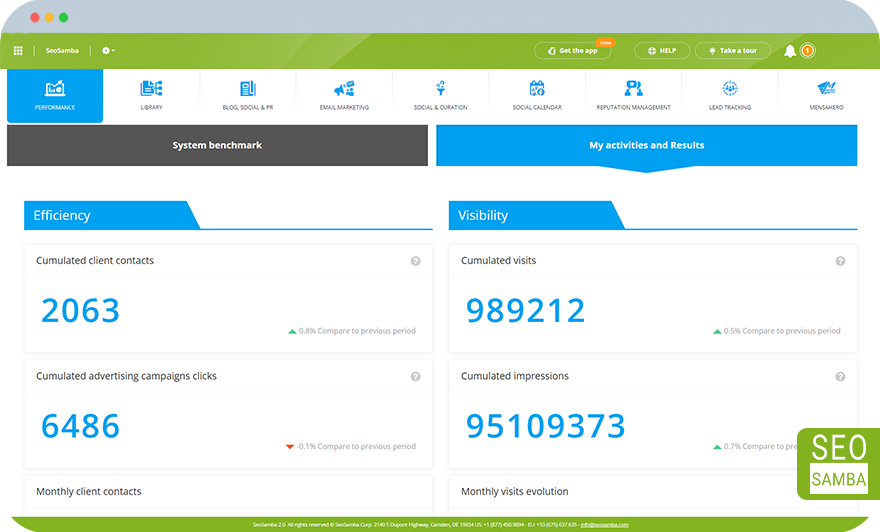 And System benchmark
Managers of multi-location businesses, such as franchisees of a franchise system can benchmark their locations marketing and sales performances against their peers. The Franchise System Benchmark Dashboard can be enabled by your franchise brand on request.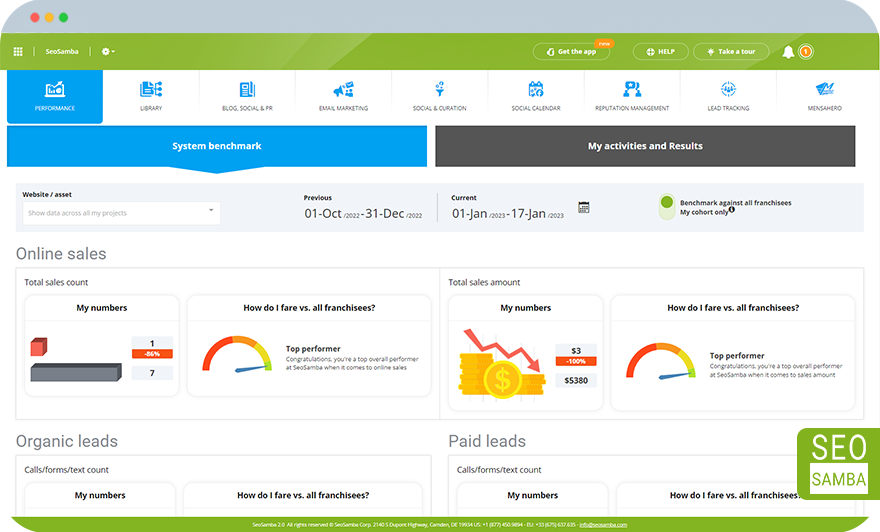 The System Benchmark dashboard help you gauge your marketing and sales performances across all digital assets connected to the platform. This is especially useful if you are a multi-location owner/franchise operator but even as a single territory owner it is very likely that you need to connect multiple digital assets in order to have a fuller picture of your performance. This can include call tracking numbers for organic and paid activity, website(s), web chat, inbound text messages, landing pages or franchisees sections on your corporate brand website.  
Drill down to a specific digital asset using the website/asset pull down menu located in the top left corner. By default the dashboard will show aggregated results across all digital assets for you.
On the right-end side, flip the "My Cohort Only" switch after selecting a website asset. This will let you rank your performances against locations that have launched their websites within three months of your own, instead of the entire brand network. 

Online sales
Total Sales Count reflects the number of successful deals you have sold over the period.

Total Sales Amount reflects the revenue over the period.



If you have use SeoToaster Ultimate CMS/CART/CRM and your website is e-commerce enabled, and/or use the built-in online proposal and quote system, you online sales data will populate automatically.
If you do not operate an ecommerce website, you can track sales performance in relation to Organic or Paid activity. Once again if you use SeoToaster Ultimate CRM, recorded sales activity will automatically correlate to Organic and Paid sources. But even if you do not use SeoToaster Ultimate CRM, you can inform the system and close the loop by quickly adding a sales deal amount next to the lead contact record in the "My activities and results" screen.

Add sales deal amount to your calls dashboard: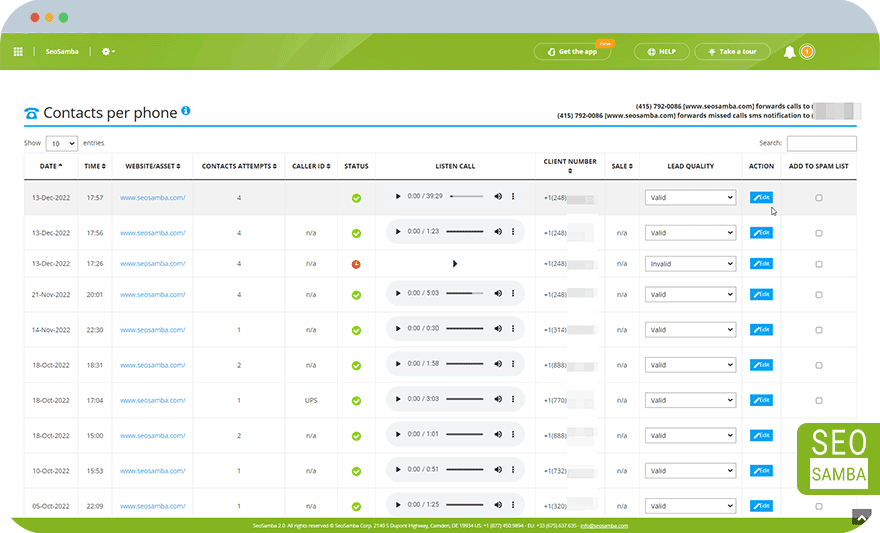 Add sales deal amount to website inbound form enquiries: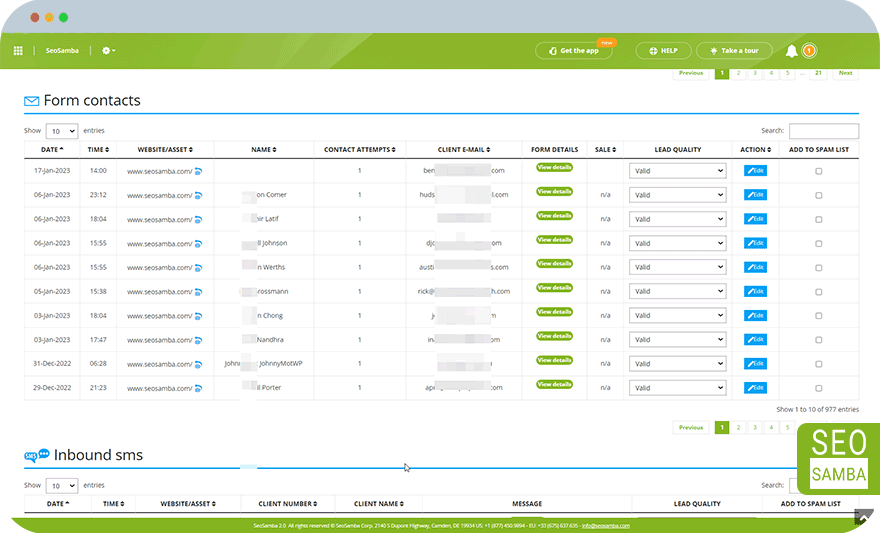 In the "Action" column, find "Edit" button and type in the recorded sales or deal amount. Your sales will display in "System benchmark"  Organic and Paid leads sections.
Organic & Paid leads

Leads originating from organic and paid channels are counted and displayed right below the online sales section. If you are not seeing numbers that you expected in this section, make sure that all your Ad campaigns are appropriately "UTM" tagged and enquire with your corporate office or SeoSamba's helpdesk to find out what tags you should use for your campaigns.
You can track;
Facebook ads

YouTube ads

Google ads

LinkedIn ads

Any ads...

SEO
Review your website's Search Engine Optimization progress in relation to your peers. The top 10 and top 10 targeted positions metrics are sampled from data provided by Google. The top 10 position relates whether your website(s) showed up on the first page of results for a given query while the top 10 targeted positions highlight and count the ones that your website and SEO efforts is known to focus on. Keep in mind that your website(s) is likely ranking for many more top 10 positions than related on this report.
Note that you can find additional SEO indicators on My activities and Results tab, such as Clicks, impressions, Google Organic Queries Volume, Top 5 overall key-phrase opportunities, and more. 

Content
The more valuable content you create, the more likely you are appeared in search engine results. SeoSamba's Blog and Press Release posting tools help you schedule fresh content and relay it on social networks easily.


Email
SeoSamba Email Marketing platform helps you create beautiful emails using an intuitive drag-and-drop editor, email templates, blog-digest emails, and product newsletters. On this panel, you can compare your email activities and some of its metrics to your fellow franchisees' results.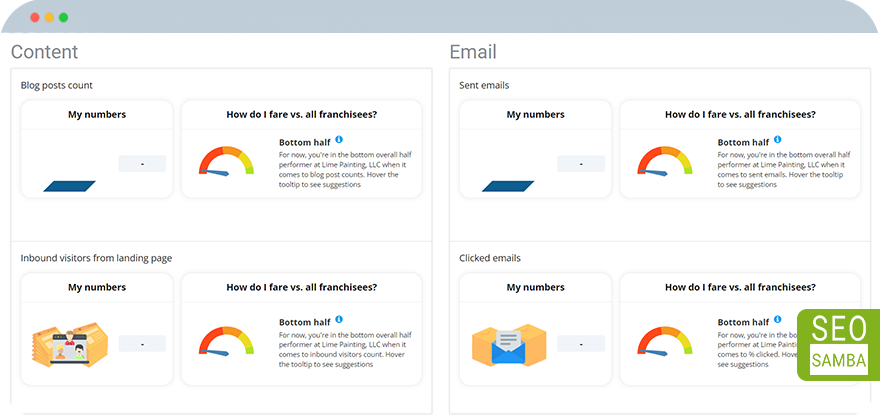 Reputation
In this section, monitor your progress and the state of your reputation across Google, Facebook and up to 100 review directories.  
Social
Social Media is a powerful tool for increasing your digital presence, here you can compare your activity and engagement rate across LinkedIn, Facebook, Instagram, Twitter  and even Google my Business.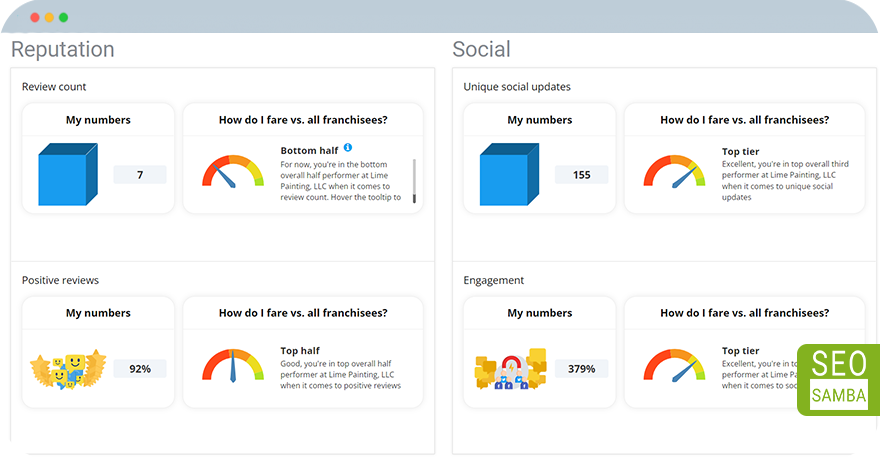 Note for Franchisors: 
You can easily activate or hide the System Benchmark dashboard. Log into your franchisor account, click on the account setup wheel and from the Access tab find "Select managers / franchisees to show benchmark"  and select the franchisees you would like to activate the benchmark feature for.
"Apply to all" config makes the dashboard available for the active franchisees and for all future ones.