Create a Social Media Content Calendar
Step 1: Know Your Ideal Prospect and Platforms
Automation: Focus on HIMI "High Impact Minimal Effort"
Which platform is the most popular or most important to this person? SeoSamba Marketing OS cover most popular Social Media and is continuously extending this list.
What time of day are they online?
 if you're online at the same time and someone comments on your post, they will be notified of your response, which opens up the door for a conversation.
 if you schedule your posts for when your audience is most likely online, your audience is more likely to SEE those posts.

Select any time you like with the help of scheduling tool, remember to post your evergreen content repeatedly:


Step 2: Make a Plan - Use Your Social Calendar
Think about creating a weekly or monthly themes.
What topics is your audience wanting to learn more about?
What is being posted already?
Mark down any events you're participating in.
Mark the event date first, then schedule posts leading up to the launch to build buzz and excitement.
Add other dates, such as recent blog post titles, seasonal/holidays, and support for email newsletter topics.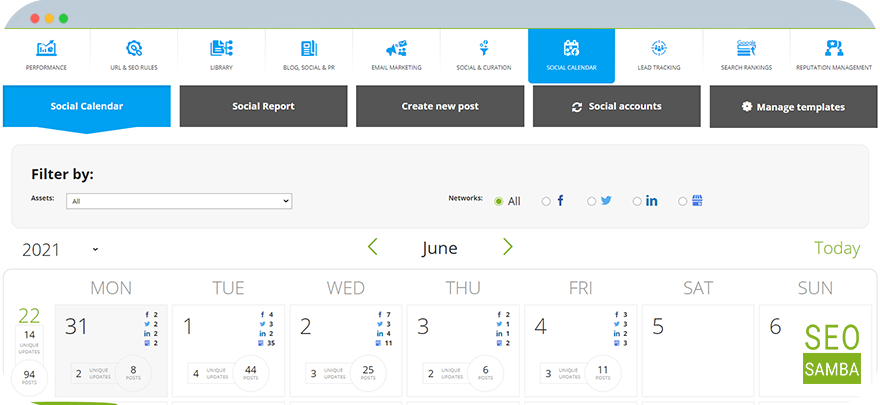 Step 3: Remember to Follow Your Branding Guidelines - Colors/Images
Brand guidelines, also known as a brand style guide, govern the composition, design, and general look-and-feel of a company's branding. Brand guidelines can dictate the content of a logo, blog, website, advertisement, and similar marketing collateral. Take advantage of the Social posts templates we prepared for you and also create more templates of your own to optimize your Marketing efforts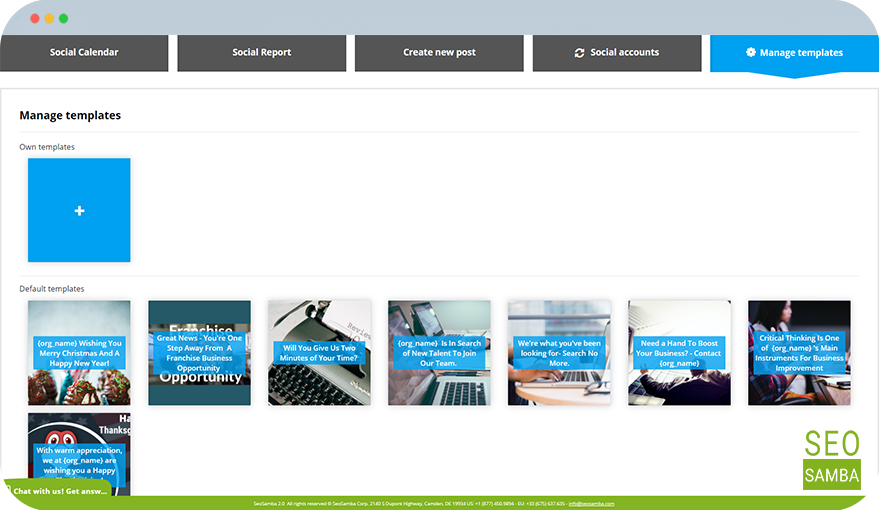 Step 4: Prioritize Big Events
Post about your notable business activities and events:
Other marketing avenues - Community involvement, news Interviews
Holidays and personal events.
Your or a Partners live events
Your content releases like podcasts, interviews or other in-network stories
Industry networking or speaking events.